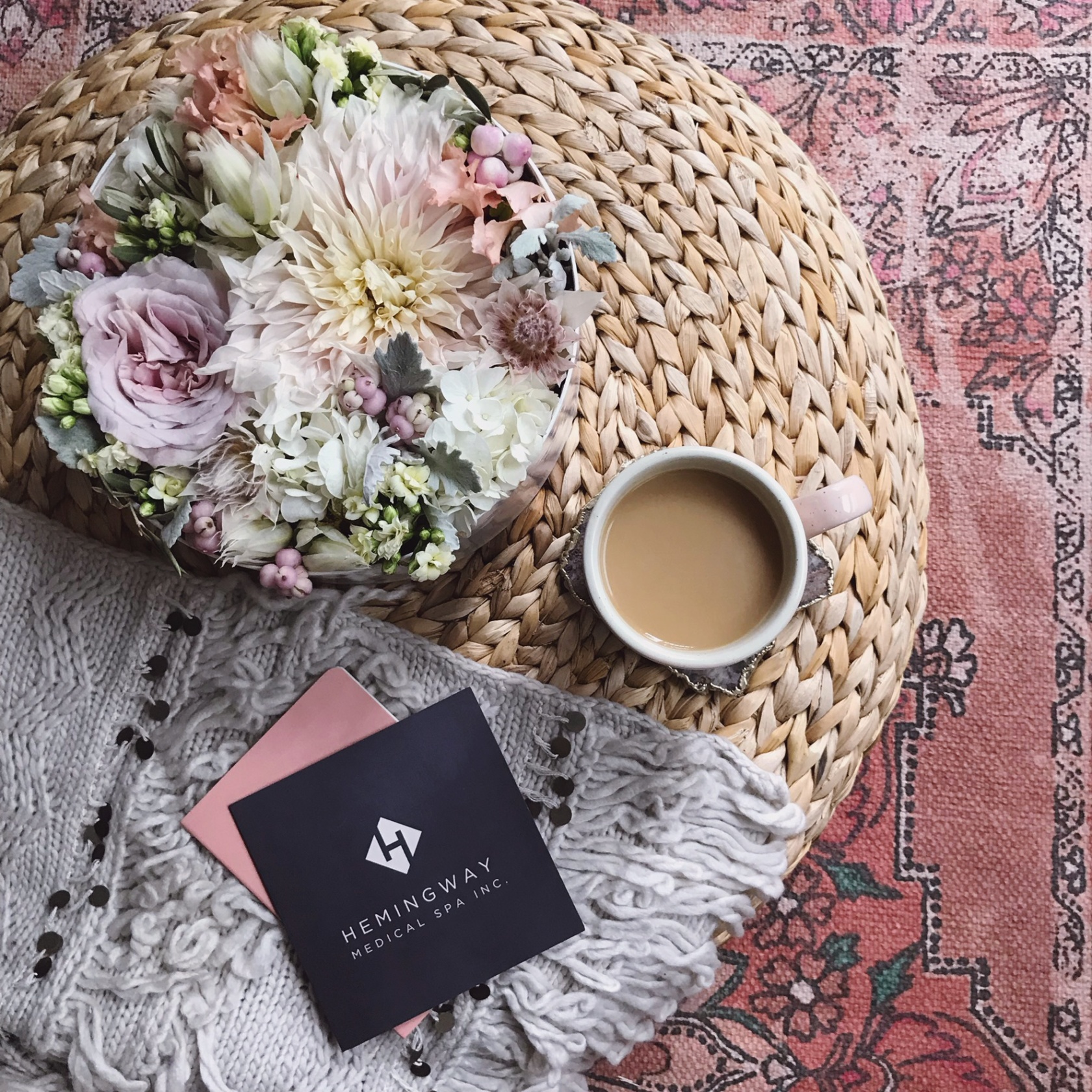 Our team was approached by Hemingway Medical Spa to come and try out the microneedling (microchanneling) treatment at their Spa and share our experience with all of you. Last week we headed into the Medical Spa and met with Antoinette and Dr. Olesen to discuss our skin concerns and what treatment would be best for each of us. The staff at Hemingway Medical Spa were so kind and amazing to work with. No skin concern was deemed too big or small and they offered different treatments in the future and you never felt like they were pressuring you to do anything drastic. One surprising fact about the treatment is that it can be more effective than Botox because you are treating your full face and over time it can reduce your fine lines. Microneedling has the following effects for your skin as per their site:
Stimulates a natural response to increase collagen and fibroblast activity resulting in plump, hydrated skin
Minimize fine lines, stretch marks, hyperpigmentation, sun damage, scars, pore reduction, acne, and uneven skin tone
We had before photos taken and then were individually ushered into the treatment room to have the microneedling treatment started. We were each offered an option of serums that would be administered along with the treatment and based on our skin type we each picked a serum. They had options for dry skin, skin lighting, acne prone skin and then a serum for anti-aging. We asked about this service for our clients and were told that even one treatment is enough to see a difference in your skin texture and fine lines but up to three would be optimal if you had the time. They recommend getting the treatment a few weeks before a big event and they even have a Red Carpet Chemical Peel that peaked our interest for a potential treatment in the future. They also have a Botox Membership that a few of us are considering signing up for because you get so many perks beyond just Botox and you also get three microneedling treatments in a year. During the treatment, you feel a suction with tiny pricks to your skin that doesn't hurt too bad at all. We thought of some questions that our friends and readers may ask and then had each person from our team answer based on their experience with Microneedling.
What is your age:
Janna: 29
Stefanie: 28
Caitlyn: 28
Diane: 32
What is your skin type:
Janna: very oily and prone to congestion
Stefanie: combination
Caitlyn: normal
Diane: combination with a tendency towards the congested
What are your skin concerns or worries about aging?
Janna: large pores and fine lines
Stefanie: fine lines/ anti-aging
Caitlyn: pore size
Diane:  I'm still dealing with breakouts at 32 now with added fine lines! I'm no stranger to enlarged pores either.
What skin treatment did they recommend based on the above concerns?
Janna: They recommended the anti-aging serum option with the microneedling since I knew my little pimples were stressed based and that my fine lines and pore size were more so my skin concerns.
Stefanie: We did a microneedling service focused on anti-aging. During my appointment we also scheduled a chemical peel – I get my first one in 6 weeks from now!
Caitlyn: Microneedling
Diane: My skin has been decently clear for the last little bit so we went with the anti-aging micro needling. Also, botox for my washboard forehead- but that's for another time.
How was your skin feeling before your treatment?
Janna: My skin was a bit oily and congested after getting home from traveling and had new breakouts related to stress.
Stefanie: I didn't have any major skin concerns, since changing my diet to dairy and gluten free about 7 months ago I have noticed huge changes in my skin for the better. However, I am always interested in anti-aging skin care treatments to help combat the life of a busy, tired mom!
Caitlyn: I have some problem spots with lots of dirty pores and once receiving the treatment my skin is so great and clean.
Diane: My skin felt pretty normal. A bit dry maybe.
How did you find the treatment pain or discomfort wise?
Janna: The treatment was not super painful at all and if you have a fear of needles you never see the needles and it feels totally different then botox or something similar. You feel a suction with a tiny bit of pain but nothing unbearable. I really liked how Brittany showed how it would feel on my forearm before starting on my face. My face was pretty red right after the treatment but I am pretty fair so I turn red very easily. My skin was back to my normal coloring after about an hour.
Stefanie: The micro needling service was mildly uncomfortable but only sensitive around my under eyes/ highest point of my cheek! I had very minimal redness, and within 30 minutes of the service had no redness at all!
Caitlyn: Wasn't bad at all. Felt like light scratches that's all. I wasn't really red at all.
Diane: The discomfort was minimal. a couple of places were tender during the procedure itself. Dr. Olesen described it as a very rough cat lick all over your face, which I would say is quite accurate. After the treatment, I was red for about a half an hour after but that was it. No post-procedure discomfort.
Over the next few days did you notice any changes to your skin?
Janna: When I put makeup on the next day it went on like I had baby skin and I could not believe how much smaller my pores looked. Even almost a week later I keep looking at my face amazed at how my skin looks so smooth.
Stefanie: I have found my skin to have more of a firmness to it, however, have found dry/flaky spots around the sides of my nose. The fine lines in my laugh lines around my eyes have softened.
Caitlyn: My skin glows. I absolutely loved microneedling. I would love to continue doing this treatment. I have always had good skin and now it's 10x better than before! So that's great!
Diane: My skin was noticeably clearer smoother and brighter the next day. It felt great.
Any other impressions of the spa or experience and would you recommend the treatment to anyone?
Janna: The spa felt very welcoming and the seating area was so plush you almost didn't want to leave to go to your treatment. All of their staff were so helpful with any questions I had about further treatments. I would 100% recommend the spa and treatment to anyone wanting to help their skin beyond a traditional facial but maybe you're too scared to try botox.
Stefanie: The spa overall had amazing friendly staff. They were all very knowledgeable on multiple different services and treatments and encouraged healthy skin care routine habits at home. I would highly recommend  Hemingway Spa to anyone of my friends, family or clients. I look forward to my peel with Antoinette in a few weeks from now to continue my new healthy skin journey!
Caitlyn: The front desk girls were so sweet and wonderful. Everyone I met there was amazing. I would most definitely come back and I already am telling all my friends and clients to come to Hemingway and also do this treatment. My experience was so great!
Diane: I would totally recommend micro needling. I was nervous to get it done but loved the outcome. The spa itself was modern and clean looking. Fun music was playing and there was a dog. A DOG!!!!  10 out 0f 10 would go back.
Coming from a group of gals in the beauty industry we had never really heard about Microneedling and now we would definitely recommend our clients as well as friends and family to try it out for themselves. The personal touch and care they had with us in even sending follow up texts after the treatment has us wanting to come back again and again. You can visit the Hemingway Medical Spa site here to book in for a treatment or even just a consultation to see what would be best for your skin and concerns.