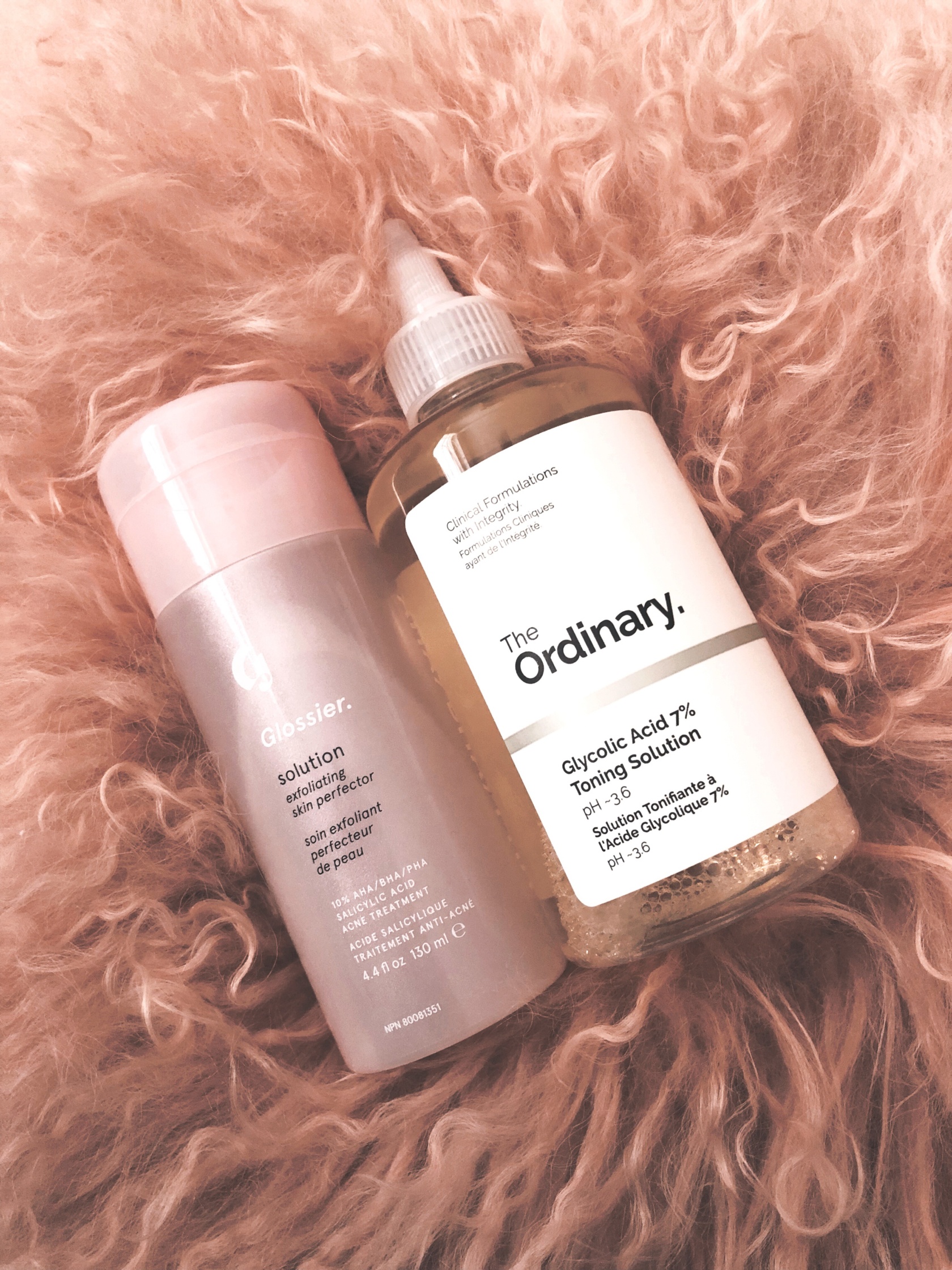 I've been a long time fan of Glossier as a brand as I had followed the blog Into The Gloss for years and could not wait until the products were available in Canada.  Last year the brand started shipping to Canada and then I proceeded to fall in love with the Boy Brow, Stretch Concealer and Cloud Paints. I also got to visit their showroom in New York last November and let me say it was my pastel pink dream! Once they announced that they were bringing out an acid toner called Solution I knew I had to try it. I started this review originally on Instagram Stories when the Glossier Solution had come in the mail with the hopes of comparing it to The Ordinary Glycolic Toner. I had promised to follow up with my thoughts on the new hyped up product that had a lot of promising claims. As I tested out the product and dove a bit deeper into at home acid treatments I found that giving my opinion on the Glossier Solution would not be able to be so black and white. To set the stage for this review I'm going to give you a bit of backstory on my skin. I have very oily skin with large pores in my T-zone and skin that is prone to congestion with blackheads and whiteheads. I do also get cystic breakouts around that time of the month. I have been using acid toners for years and I surveyed my friends and found most of them had no idea what acids could do for them. I thought I should break down the type of acids out there and what they claim to do and which one you should choose based on your skin type or skin concern. I am not a doctor so please test these products first before using them.
The purpose of most acid toners/creams is to help shed dead and dull cells which results in brighter, more even-toned skin with fewer clogged pores and smooths wrinkles. Once you know to look for either AHA, BHA or PHA on labels you'll be able to narrow down what products will work for you. Keep in mind that you have to try out skin care for at least a month to see the full benefits of the product. You would use the acid product in your morning skincare routine before your SPF (if it is an acid toner you would do that after washing your face if it is an oil or cream you would do is as the last step before your SPF).
Types of acids and what they do for your skin
AHA (Alpha Hydroxy Acids) –  Glycolic, Lactic, Citric: exfoliates your skin + Stimulates collagen. This is best for anti-ageing.
BHA (Beta Hydroxy Acid) – Salicylic Acid: helps to shed dead skin to promote skin cell turn over. This is best for breakout prone skin.
PHA (Polyhydroxy Acid) – Gluconolactone, lactobionic and maltobionic: this type of acid has larger molecules so it works slower with gradual penetration which then helps to restore the skin's barrier and helps prevent collagen breakdown. This is best for sensitive skin and dry skin.
The types of acids and their descriptions are summarized from this cheat sheet published listed here if you want to read a bit more about the types of acids.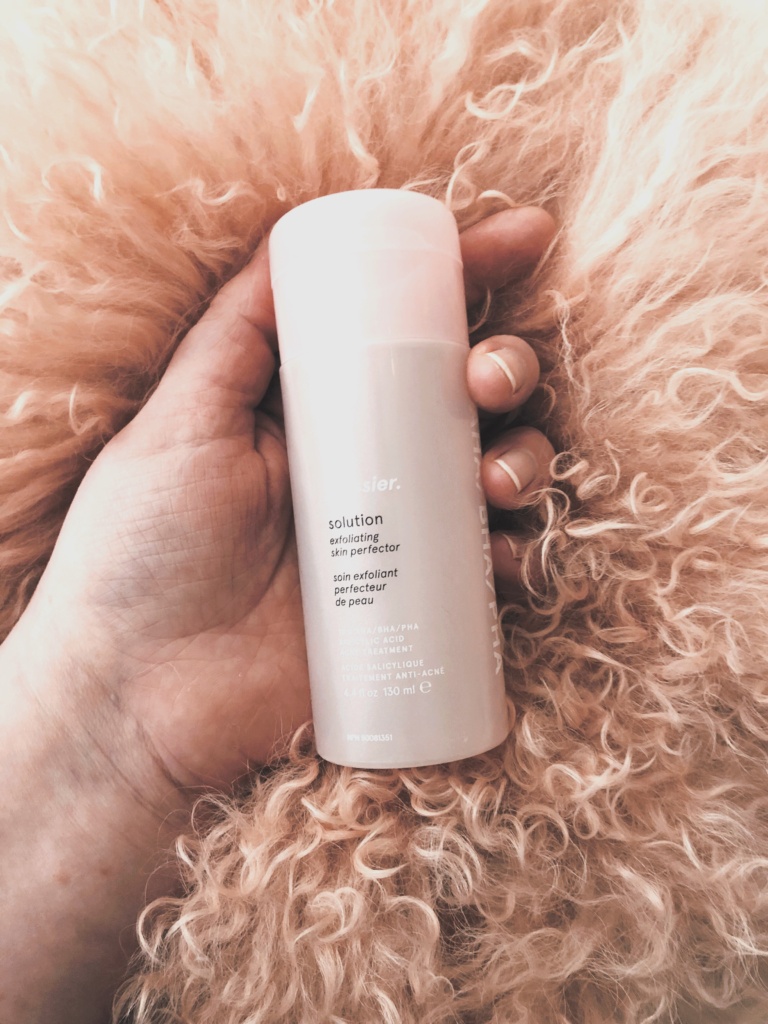 Pro's
combination of acids in one formula
great for skin that is experiencing breakouts
made my skin feel smoother
pump dispenser
ships free to Canada if your order is over $40
Con's
0.5 % of Salicylic Acid is too low to be super effective
10% of acids listed but doesn't show a breakdown of the percentages
leaves a sticky residue on the skin
could be bad for sensitive skin because of its fragrance + high sodium hydroxide levels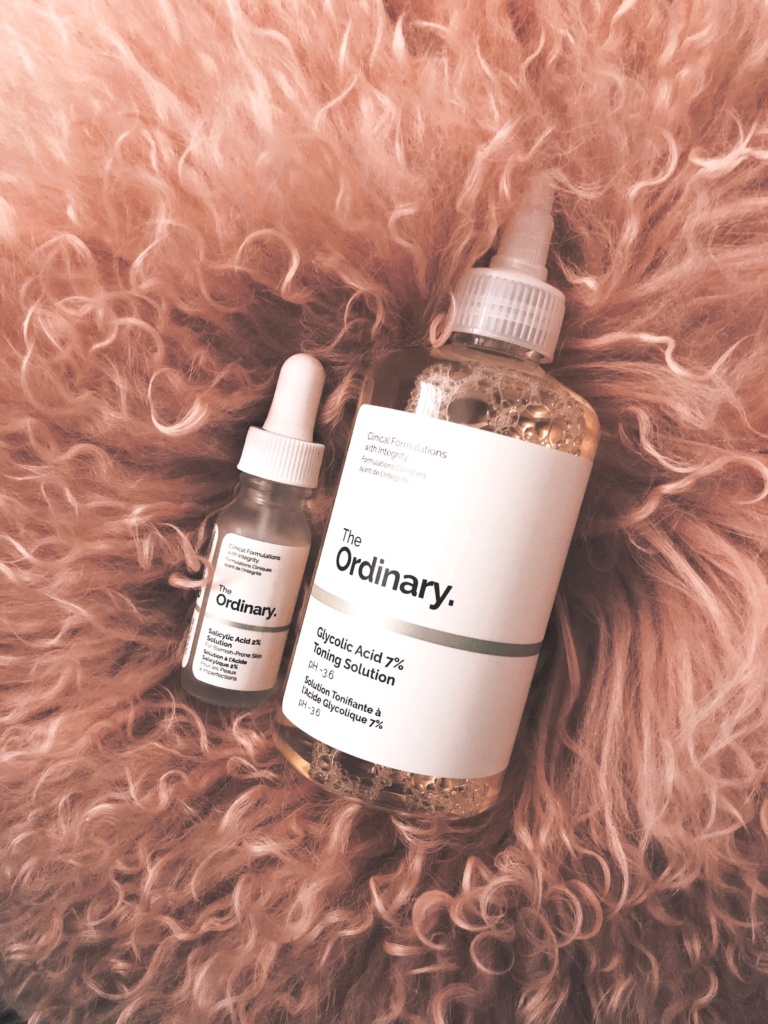 Pro's
Contains 7% Glycolic Acid, Amino Acids, Aloe Vera, Ginseng and Tasmanian Pepperberry – includes ingredients to help with acid irritation
a very low price point
does not leave a sticky residue
Con's
since it is only an AHA formula then it would be best suited for antiaging and not targeting breakouts. If you are comparing it directly to the Glossier Solution it doesn't have the BHA of Salicylic acid. *** If you added in The Ordinary Salicylic Acid (AHA) 2% Solution ($5.30 CAD/30ml) it would target breakouts.
warnings on the label: not to be used on sensitive or peeling skin
it is fragranced with rose water so that would be questionable for sensitive skin.
Other acids on the market that have high ratings:
Mario Badescu Glycolic Acid Toner $22 CAD/236ml
2% Glycolic (AHA) toner which would be good for someone just starting on an acid product or sensitive skin as there is no fragrance and the percentage is so low. Some reviews say that the percentage is too low to notice a difference but I started out with this product years ago and really liked it.
5% Glycolic (AHA) toner with aloe vera and ginseng. This would be best for antiaging. They also have a peel pad version that would be really great for travel and then a 20% acid level peel pad version.
LixirSkin Night Switch PHA/AHA 10% $36 CAD/15ML
blend of lactic, lactobionic and phytic acids, this blend exfoliates and dislodges dead, dulling cells to reveal more even-toned, radiant and plump skin. This would be really good for sensitive skin that is dry yet prone to breakouts.
Vivier AHA/BHA Exfoliating Cream $75 CAD/55ML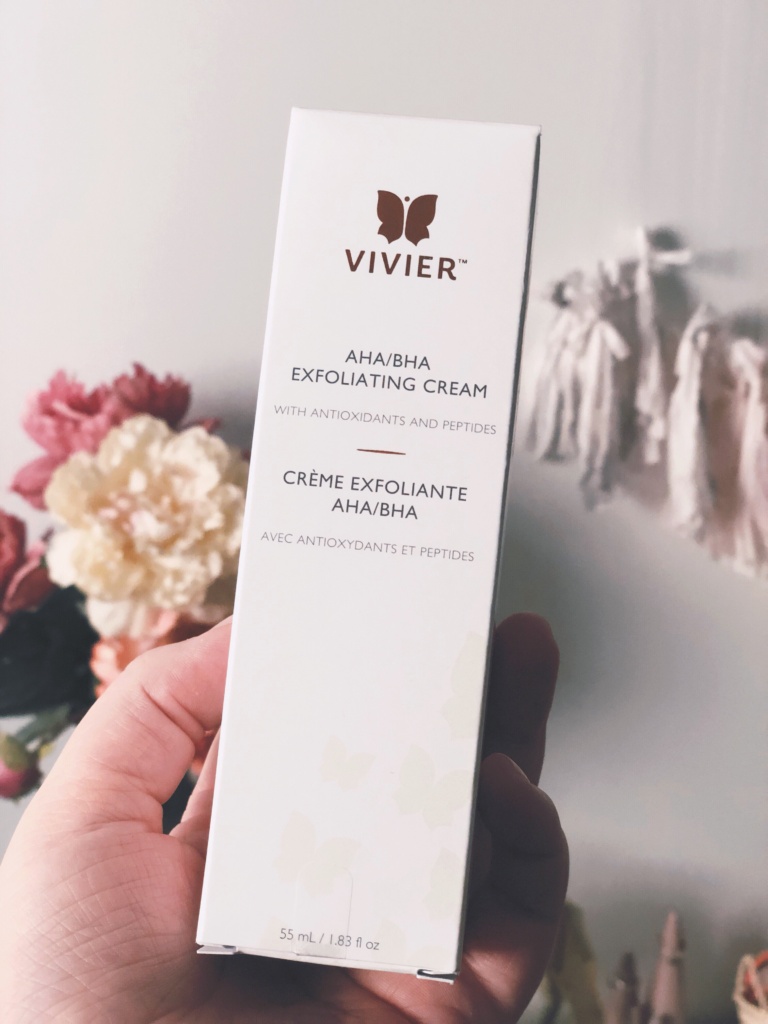 The only medispa grade acid product I've ever tested out. I consulted with Antoinette from Hemingway Medical Spa and she said that the acid products you can get in mass markets like Sephora or Glossier would be more for skin types that are generally normal and you don't have too many skin concerns. You could look into switching to a more medispa grade product with higher levels of active ingredients if you want faster/more dramatic results. I just picked up the Vivier AHA/BHA Exfoliating Cream to test out and will keep everyone updated on how I find it!
A surprising use of acid toners is as an all natural deodorant! So if you try out any of these products and find you didn't love them for your face you can repurpose them as a deodorant. Check out the article about that here. All in all, I think if you understand which acid does what for your skin then you can go out there armed with the knowledge to be able to pick the right product for you!