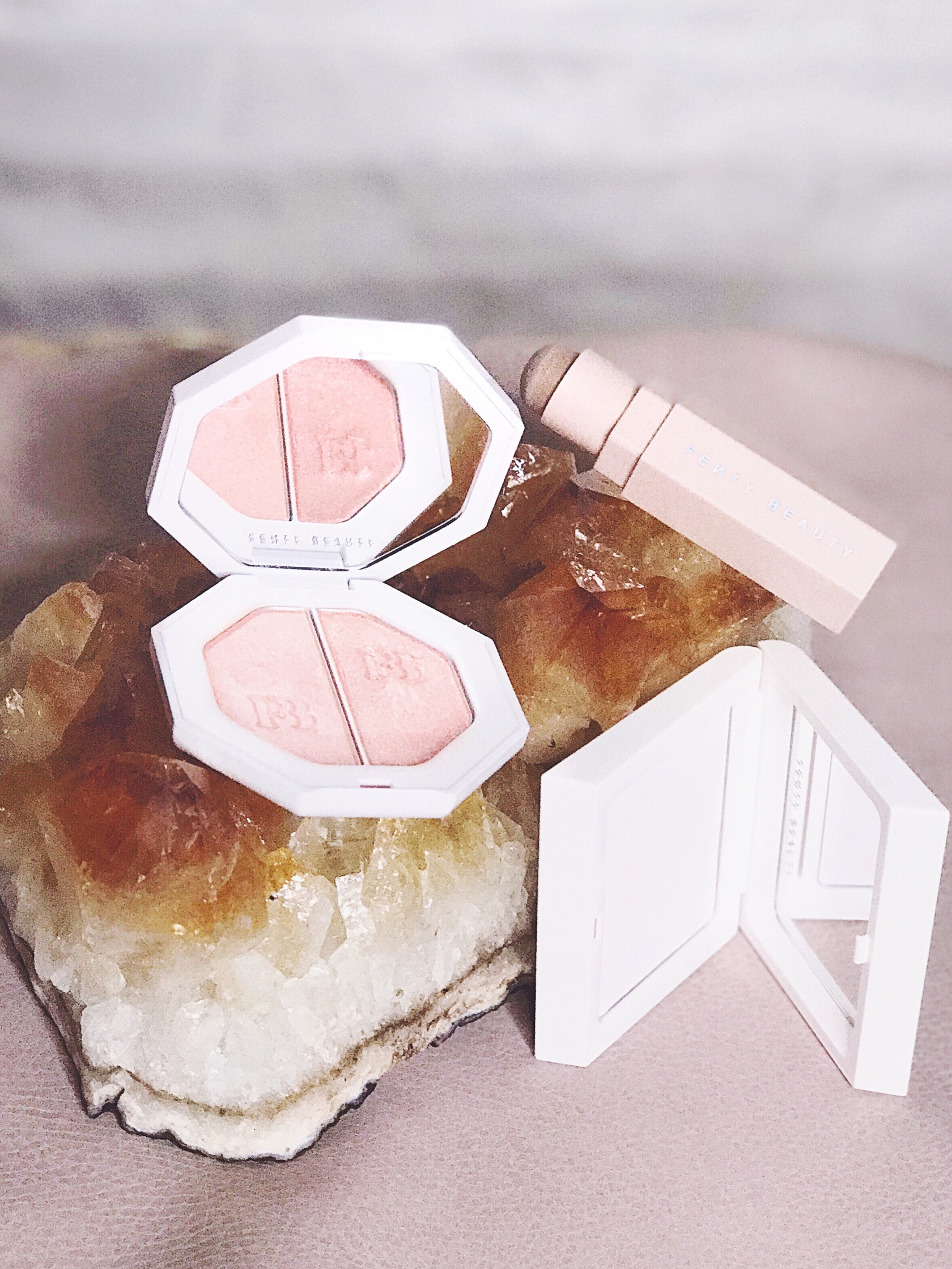 If you are a beauty junky then you too may have heard of the Fenty Beauty range brought out by the beauty queen herself Rihanna this past Friday, or you want to read a review on some of the products before you shell out your hard earned cash. Some people may not be as up to date on all the beauty launches but this one was pretty significate to the beauty community for a few reasons! Instead of testing the waters by launching a few limited edition pieces, a la Kim Kardashian with KKW Beauty, a huge range was brought to over 1600 stores world wide as a permanent launch without giving any sneak peaks to beauty bloggers or magazines. The foundation color range alone rivals the range of MAC with 40 shades to suit skin tones from very light to dark with warm, neutral or cool undertones. The types of products she brought out are innovative in that she bypassed traditional blush, bronzer, or eye shadow powders by introducing a line with a soft matte primer, soft matte foundation, blot power, blot sheets, stick products called Match Stix that click together with magnets, a singular universal gloss and then several colors of highlighters. Packaging wise Rihanna killed it with the nude tones and geometric shapes. Many people have been commenting that she copied the KKW Beauty launch but production for these lines would have started months ago and I would just chalk that up to a coincidence. The products are also produced by the same lab that Kat Von D and Marc Jacobs Beauty are created in which stands to point out the higher quality of Fenty Beauty products and also that they are cruelty-free.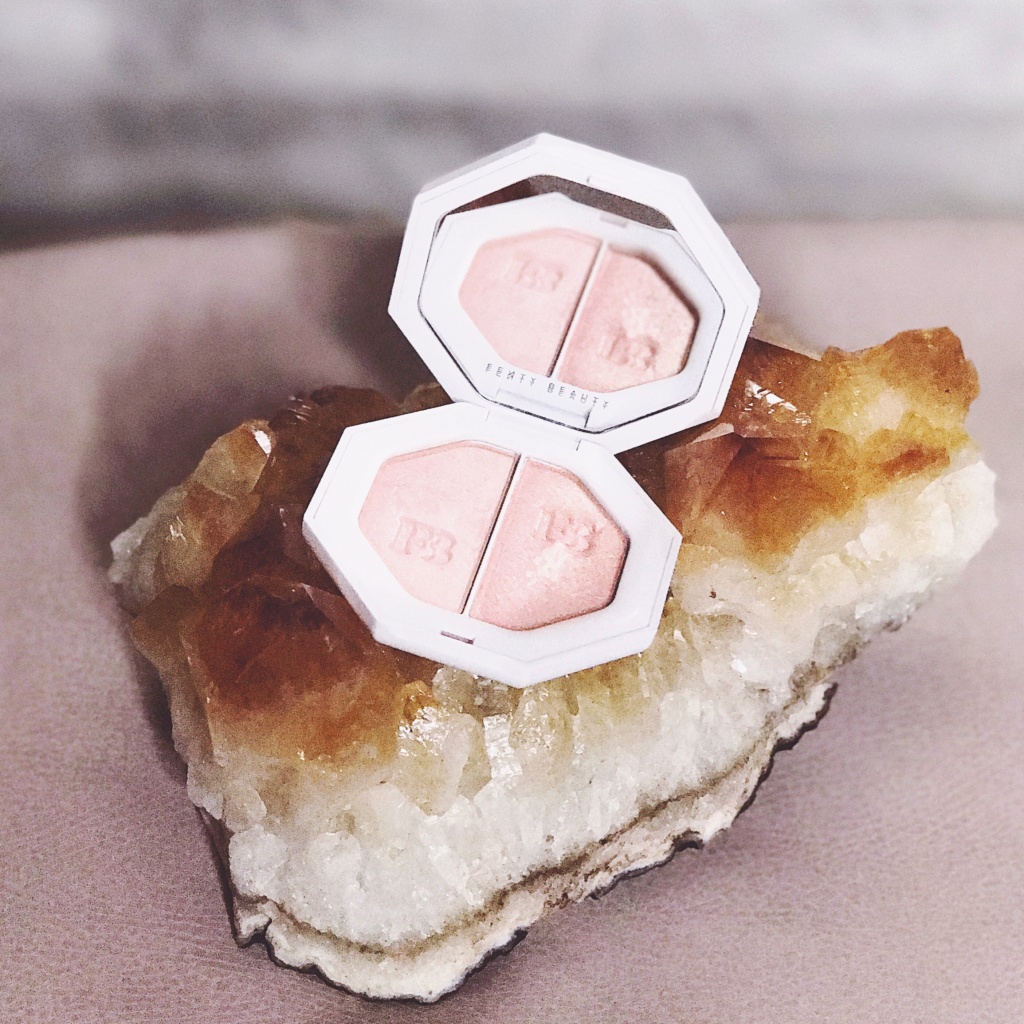 From the products that I've tried, I noticed the foundation and Match Stix may suit people more of a combination to oily skin type vs someone with a drier skin type. The price range is just right also with nothing being over $45 CAD (the trio of Match Stixs come in at $67 or $31 individually). I also got a sample of the foundation and primer but didn't find them to be anything to write home about for my super oily skin type as I found the matte finish didn't last as long as my YSL All Hours foundation or the MAC Pro Longwear Nourishing Waterproof Foundation when combined with my favorite Hourglass Veil Mineral Primer. Perhaps the foundation which claims to be a soft matte finish would be better for someone that has a combination skin type. A lot of reviews have claimed the foundation was oxidizing but I have to agree with Samantha Ravndahl in her review that the color only changes because it is going from wet to dry so you can test that out in the store by waiting for the foundation to day. Highlighting and featuring the skin is a major focus of this launch and the powder highlighter duos are definitely worth checking out. I picked up Girl Next Door/Chic Phreak and Lightning Dust/Fire Crystal and love how I can use them as highlighters or eye shadows. I would say the more glittery right side of the duos my only suit younger cheeks as the glitter will pick up any texture but you could still use them on your eyes as a pop of glittery shadow. I got suckered into the cute pink packaging and also picked up the Cheek-Hugging Highlight Brush 120 but found that I like applying the highlighters with my MAC 188 brush better. The other product worth checking out is the Invisimatte Blotting Powder as it was formulated to have no white flash back so it will work on all skin tones. Word to the wise, if you want to buy a touchup brush buy the one specifically for the case as the other two cuter brushes with pink bristles will not stick to the blot powder. The last item I purchased (for now) was the Match Stix trio in light because it had the perfect color Linen to match my skin color, as well as I, wanted to try out the highlighter in Starstruck and contour color in Amber. You can buy them all separately for $31CAD but the value pack of three for $67CAD just made more sense. Out of the three stix, I would recommend trying out Amber for a contour color if you have a fair skin tone or check out one of her darker stick colors if you are darker complected. I liked the way Amber blended out with a beauty blender but found the highlighting shade Starstruck almost too dry and pulling at my foundation. I also tried warming up the product on my hand and applying from there but found it still too drying. The skin toned shade Linen is a great match for me that I plan on keeping in my purse for random touchups throughout the day.
All in all, I have to give major kudos to Rihanna and her team for bringing out the Fenty Beauty range as I haven't been this excited by a launch in a long time. I rushed to Sephora on Friday before going out of town for a wedding to see the products in real life and then proceeded to rave about them to anyone who would listen. You rarely see a brand that brings out enough colors to work for pale to dark skin tones so it is very refreshing to see Rihanna care about her products looking good on everyone. If you were to buy one or two things I would say to check out the highlighters in person to see which one you gravitate towards. I also think that everyone always needs a good blot powder in their purse so you can't go wrong with that either. In the future, I hope she expands the range to include eye shadows and other face products and I look forward to testing those out when/if they do!
** all products were purchased with our own money