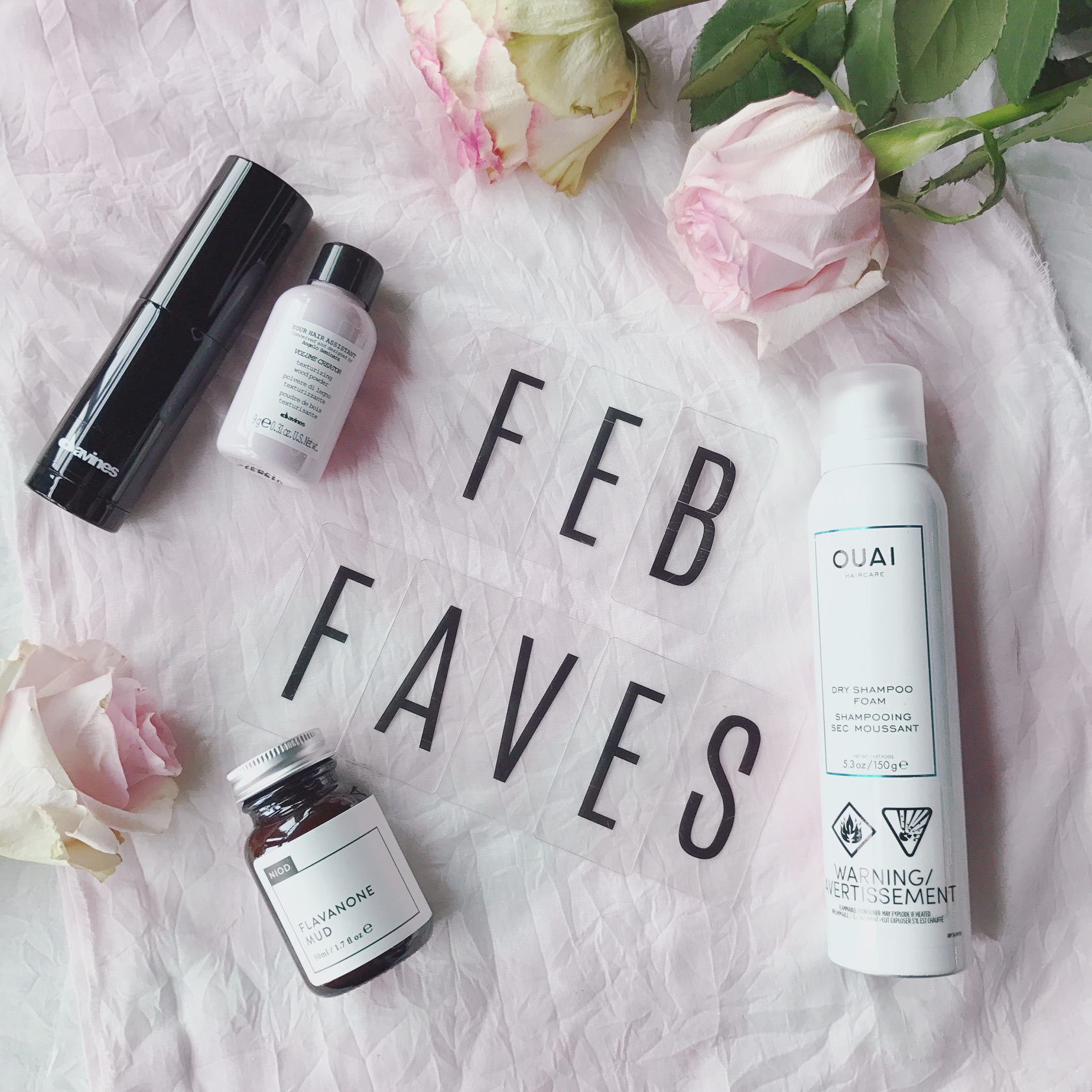 Even though February seems like it flew by we still managed to pick a few of our favorite products to give a review on. Check out our February favorites below!
Ouai Dry Shampoo Foam – You may be wondering what a dry shampoo foam is and I am here to tell you it is a new product created by the hair genius Jen Atkin to solve your greasy hair woes. It is a foam that you rub into your hair and it absorbs the oils and makes your hair look just washed. There is no color residue so even dark haired mavens can use this product and it gives you some serious volume as well! We have discovered the key to this product is to use it when your hair is greasy and not wet from sweat or anything. It works amazingly well to refresh your hair and take away the greasy look. The smell of the product is also a winner in my books. (Review by Janna)
Davines Your Hair Assistant Duopack – The volume powder is an all natural product that has mattifying and moisture repelling properties that keep your locks looking consistent and voluminous. This dry texturizing powder should be applied using the volume creator applicator brush, on roots or even throughout mid shafts and ends for more texture. I use this right after blow drying or heat styling, and have even been known to use in place of a dry shampoo. A definite favorite of mine for personal use as well as on clients for both daily do's and special event styling. The best trifecta on the market- volume, texture and consistency. The possibilities really are limitless! (Review by Stef)
NIOD Flavanone Mud – If you have ever been on the market for a mask that deeply cleanses your skin and leaves it looking younger and tighter than ever before then look no further. This mud mask is a three-phase rinse-off system that uses science I don't even understand so you will just have to click on the link to read more about this miracle product. It has worked for my oily problematic skin in a way that no other mask has. I also enjoy the fact that I can order it off of the Deciem site with free shipping in Canada. Word of warning though: when you take the mask off your face feels like it is burning but that sensation goes away after a few minutes and in my opinion is totally worth the pain for the results! (review by Janna)
If you have any products you'd like us to try out and review in future blog posts please let us know! We love testing out new products.