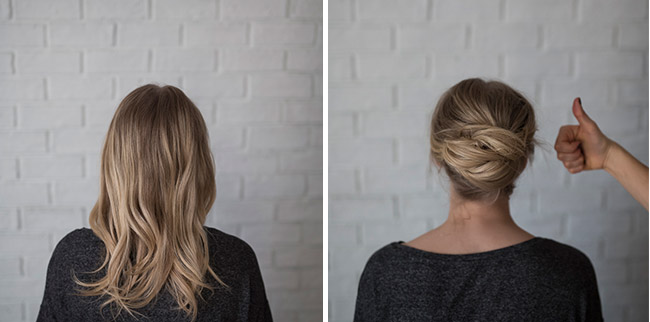 *Photos by Nicole Ashley
Here is our 'French roll' tutorial in 15 easy steps! All you need to recreate this look, is longer than shoulder length hair, bobbi pins, clips for sectioning and a soft bristle brush!
1. Begin with clean dry hair.
2. Start by sectioning off the front of your hair from the ears, clipping them out of the way so that you can work with the back section
3. With a soft bristle brush gather the back section of the hair together
4. Pull off to one side with tension
5. Start applying bobbie pins all facing upwards along the back of the head
6. Create an X formation by crossing bobbi pins downwards onto the other bobbie pins
7. Once hair is secured begin to fold hair over your hand
8. Depending how much length you have wrap your hair 2-3 times around your hand, tucking in any loose tendrils
9. Bobbi pin along the left side, to secure the hair
10. Crossing over the bobbie pins with additional pins to secure the hair into place. Remember the X formation!!
11. Grab the front  left section from STEP 2, and pin into the prepped 'French roll'.
12. Fix up any loose tendrils by pinning into the roll.
13. Repeat step 11, for the right side
14. Repeat step 12
15. Fix any pieces that are left 'undone' looking, by pinning and smoothing
16. Rub your hand over the pulled back parts, for a more relaxed look on the up-do.