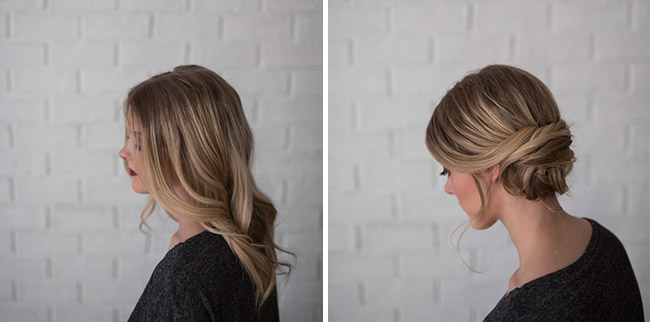 *Photos taken by Nicole Ashley
Here is a step by step low bun tutorial that can be accomplished in minutes!
What you need: hairspray, bobbi pins and either a straightener or curling wand 
1. Start with clean and dry hair that is lightly curled
2. Take small sections of hair from each side of the head, and pin just below the occipital bone on the back of your head.
3./4. Continue taking small pieces of hair from each side, and pinning it across the back for steps three and four, leaving a small amount on the bottom still down.
5. Gather all unpinned hair in your hand, and begin rolling upward.
6. Pull rolled hair to cover the section in back
7./8. Beginning pinning the hair into place and finish with hairspray
9./10. Side and back view of finished updo!